Naval JROTC
Photos from Veterans Breakfast from the Veterans Day Color Guard for 440 Phila SD headquarter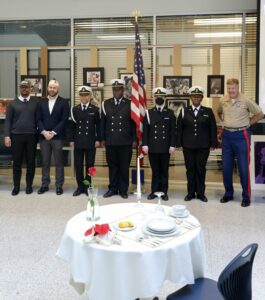 Community relations went very well Nov 2nd, Ava, Evelin and Lenisha helped sort, fold and issue infant clothing with Ms. Ellen In addition to assisting in handing out groceries for over 130 families today! Our students represented Ben Franklin well and were back in the school by only 9:40!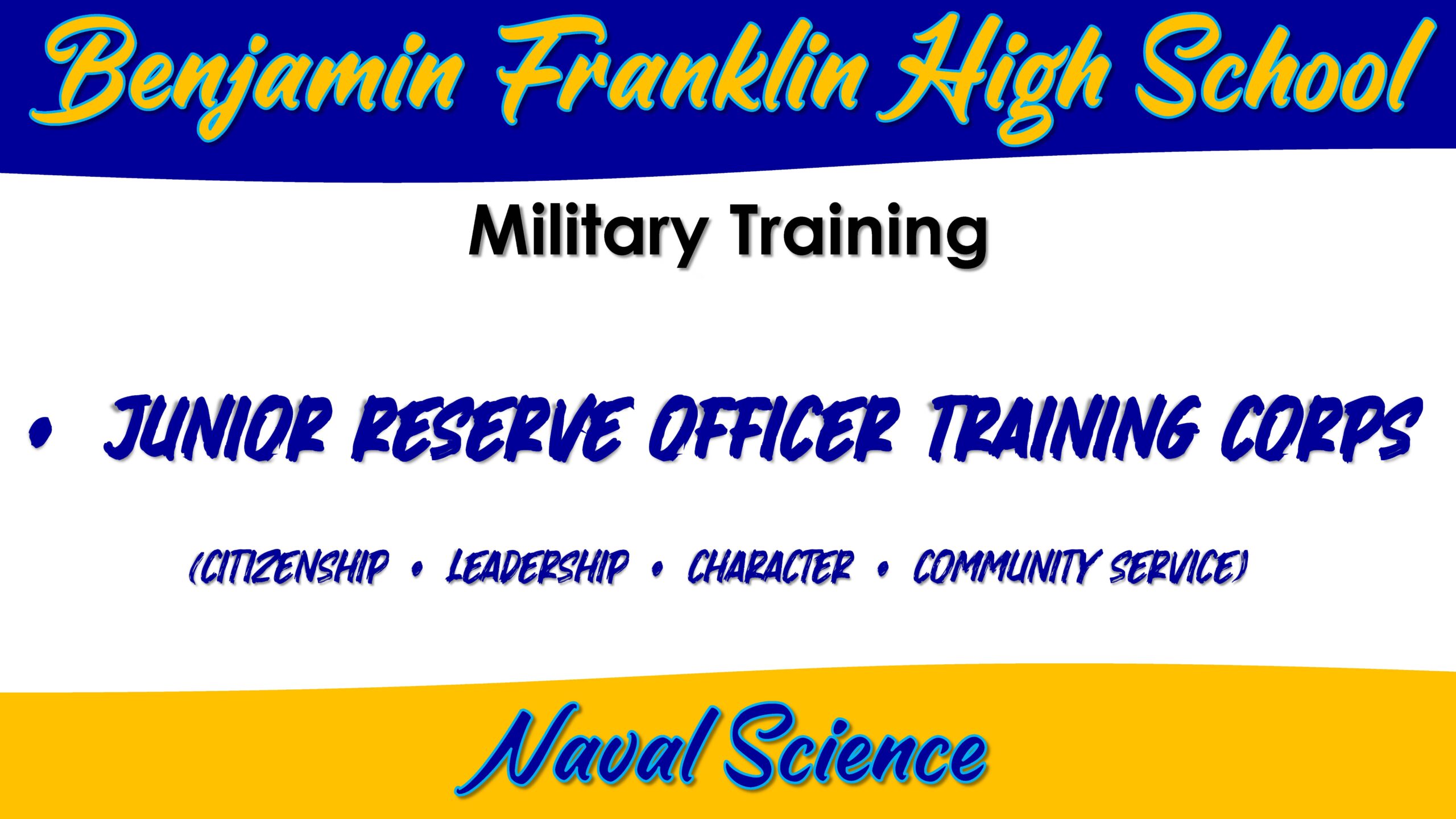 Naval Science Instructor:  Colonel Richard M. Jakucs
Email Address:  RJakucs@PhilaSD.org
United States Marine Corps, (Ret.)
Colonel Jakucs was born in Linden, NJ on 8 May 1955.  He joined the Marine Corps in March 1974 and completed Officer Candidate School in June of 1974 and July of 1076.  He was commissioned in June of 1977.  After attending The Basic School, he attended Infantry Officer Course, completing them in May of 1978.
He joined 2nd Battalion, 8th Marine Regiment and served as a Platoon Commander, Weapons Platoon Commander and Company Executive Officer.  He made two shipboard deployments to the Mediterranean and participated in operations there.  In addition he was deployed to Key West as part of the relief to Cuban refugee crisis of the Mariel Boatlift.
He was discharged from active duty in July of 1981.
Then Captain Jakucs joined the Marine Reserve and served in a number of billets from Weapons Instructor at the School of Infantry, Tow Platoon Commander and Patrolling Instructor at the Amphibious Recon School.
In March of 1988, Captain Jakucs reported to 2nd Battalion, 25th Marine Regiment (2/25), headquartered in Garden City, NY.  There he became the Weapons Platoon Commander in Echo Company, 2/25, in Harrisburg, PA.  In January of 1990 he became a Company Commander in 2nd Battalion, 25th Marines.  The Battalion was activated as part of Operation Desert Storm.  Upon his return to Garden City, Jakucs was promoted to Major and took over as the Assistant Operations Officer (S3A) for the Battalion.
During a Combined Arms Exercise (CAX) in 1991, Major Jakcus, was asked to take over as the Battalion Logistics Officer after the logistics element was thrown into disarray through the loss of key personnel.  He successfully completed the exercise and led the Battalion through four more major deployments.
In July of 1993, Major Jakucs was selected to take over as the Officer in Charge of the Marine Corps Mobilization Station in Dover, NJ.
After completing this tour in 1995, LtCol Jakucs took over as the Logistics Officer, for II MEF, Marine Augmentation Command Element, in Newburgh, NY.  There he oversaw and completed a number of deployments to include a peacekeeping exercises in Lithuania and Cold Weather Operations in Norway.
In 1999 LtCol Jakucs was selected to take over was selected to take over as the Officer in Charge of the Marine Corps Environmental Services Detachment, Det D, in Red Bank, NJ.  This unit responded to and worked at the World Trade Center Site during the rescue and recovery effort after 9/11. In addition, LtCol Jakucs wrote the Marine Corps Doctrine for the defense of Weapons of Mass Destruction with Industrial Toxic Chemicals.
In January of 2002, LtCol Jakucs was activated as part of OPERATION ENDURING FREEDOM. LtCol Jakucs served at US CENTRAL COMMAND in Tampa and worked as a Logistics Plans Officer and headed up the Afghanistan and Central Asian Republic Working Group.
In July 2003, LtCol Jakucs was promoted to the rank of Colonel and was assigned and ran a Counter Terrorism Task Force of various military, Inter-Agency and Law Enforcement personnel at US CENTRAL COMMAND.   During this time Colonel Jakucs did combat tours in both Afghanistan and Iraq.  Colonel Jakucs was awarded the Defense Meritorious Service Medal for his work with this Task Force.
Colonel Jakucs was also part of a Joint Inter Agency Counterterrorism Task Force in Afghanistan and has completed 15  tours in Afghanistan.  His last tour was the end of 2012.  Colonel Jakucs has extensive knowledge of the Afghan region, culture and knowledge of Pashto and Farsi/Dari languages.
While not in Afghanistan, Colonel Jakucs served as the Officer in Charge of a Planning Cell for conflicts on the Korean Peninsula.   The cell was responsible for overseeing all Movement and Supply of Marine units during a conflict on the Korean Peninsula.
Colonel Jakucs has also been selected to as an Adjunct Scholar for the RAND Corporation.  He serves as the Adjunct Scholar for Military Affairs, Counterterrorism, Counterinsurgency, and Military History.  Jakucs has written papers for RAND that were briefed to Congress.
Colonel Jakucs is an adjunct professor at the Marine Corps University, Command and Staff College.
Colonel Jakucs currently serves as the Senior Naval Science Instructor Ben Franklin High School, Philadelphia, PA.  While at Ben Franklin Colonel Jakucs more than doubled the unit by recruiting 77 new cadets to a 21 man unit.  The unit needed 52 to keep its NJROTC numbers.  Colonel Jakucs increased the units attendance to 75% attendance in a school that had a 37% attendance rate and 75% were habitually truant rate. Colonel Jakucs has a 79% graduation rate, in a school that has a 55% graduation rate.  Colonel Jakucs' Navy JROTC unit is close to a grade point higher than the schools average (2.4 of 4 compared to the school's 5th grade reading level and a 1.4 of 4).  This unit has close to 1/3 or more of both the honor roll and super honor roll.  And we have had one of the school's Valedictorian in the last 3 years.
Colonel Jakucs completed a tour as a Naval Junior ROTC instructor at Neptune High School.  Jakucs filled in for a retiring Chief half way through the year and earned the plaudits of his Vice Principal, who said, "he made it look easy". Colonel Jakucs facilitated a Marine Corps ROTC Scholarship for one student to San Diego State University.  This was the first time in over 4 years a student from Neptune got an ROTC Scholarship.
Colonel Jakucs is a graduate of Villanova University with a BA in History and holds a Master's degree jointly in both finance and marketing from the Arizona State University (ASU) Thunderbird School of Global Management/Arizona State University, in Phoenix, Arizona.  He is a graduate of the Marine Corps Command and Staff College, Amphibious Warfare School, and the Army's Joint Senior Leaders Officer's Course.
Colonel Jakucs is the recipient of the Meeker Sharkey Humanitarian Service award for his work aiding children in Russia and is a member of Who's Who in the Environmental Business.
Colonel Jakucs is married to the former Daryl Beriont of Linden, NJ and they have two children, Sasha, 21, and Laurel, 20.
---
Naval Science Instructor:  Senior Chief Petty Officer Gunner's Mate (GMCS) Khalif Schexnayder
Email Address:  KSchexnayder@PhilaSD.org
United States Marine Corps, (Ret.)
U.S. Navy Senior Chief Schexnayder retired after 25 years of service in March 2021.  Raised in New Orleans, LA and Queens, NY he enlisted a month after high school graduation.  He fought through a life of many obstacles and challenges to finally breakout and achieve certain levels of success.  He earned nine (9) personal leadership awards and retired at the 2nd highest military enlisted rank.  After leading, mentoring and teaching hundreds of Sailors, Airmen and Soldiers throughout his career, Senior Chief had a strong desire to transfer those experiences, wisdom and knowledge gained to the next generation of our young women and men.  Senior Chief was hired by the Philadelphia School District in June 2021.
As one of only two Naval Science Instructors in the city of Philadelphia, Senior Chief brings experience from the U.S. Navy fleet and the Expeditionary Navy.  Traveling to approximately thirty-four (34) countries on five (5) different continents, Senior Chief Gunner's Mate Schexnayder has served:
-On the United States Ship, USS Conolly, a destroyer based out of Norfolk, VA as a Gunner's Mate Guns.
-As a military police officer in Lakehurst, NJ with the Department of Defense.
-While stationed with Navy Expeditionary Combat Readiness Center based out of Little Creek, VA and temporarily assigned to U.S. Army 1st Army and 82nd Airborne, Senior Chief trained Sailors, Airmen, and Coastguardsmen throughout the country that were deploying to Afghanistan, Iraq and HOA.
-As a Career Counselor, Senior Chief assisted Sailors in their educational, career and life decisions. This continued as a collateral duty for the remaining of his career.
-With the Navy Expeditionary Logistics Group Command and served as the battalion level Training Chief for Construction Battalion (Seabees) and sea going Sailors.
-As his final command with Joint Special Operations Command in which Senior Chief trained, mentored and led 20 Sailors, 6 Soldiers and 2 Airmen during the Freedom Sentinel Operation in Afghanistan.
Senior Chief truly understands serving in the military is not for everyone although everyone can serve in some form.  Therefore, his objective is to assist the Principals, Teachers, Parents and Guardians in giving our society a more prepared scholar in whatever positive role they seek.  In hopes of going to college, one of the military services, going straight into the job market or obtaining a career in a strong trade.
Senior Chief Schexnayder resides with wife in New Jersey and has three (3) children with the oldest in college studying Engineering.
Education and Credentials:
Small Arms Instructor, Career Counselor Certified, Law Enforcement Specialist Certified, AAS Criminal Justice, Thomas Edison University, Navy Leadership Certified.